Why Is Air Duct Cleaning Important?
Air duct cleaning is essential for maintaining clean and healthy air at home. It reduces the amount of dust that circulates back into the living space and eliminates unpleasant odors caused by pet hair or other unwanted elements.
UCM Carpet Cleaning New Hyde Park provides professional air duct cleaning services in New Hyde Park, NY to remove contaminants like dust and mold spores. Our team uses a negative pressure system for air duct cleaning, to eliminate pollutants and improve your home's air quality.
Why Are Air Ducts Become Dirty?
To regulate the temperature of a room, air conditioning or heating systems are required. The air travels from the room to the HVAC to be heated or cooled (depending on preferred settings), and then returned to the room through air returns. While air travels through the air ducts, it carries lightweight particles such as dust, pollen, and mold spores. Some of these particles are trapped by the furnace or air conditioner's filter, but some settle on the duct walls as they pass through. Over time, these particles accumulate, forming a thick layer of allergens and air pollutants. Air duct cleaning is essential to remove this contamination from the air circulation system. In the air duct cleaning industry, a service is considered ineffective if any visible dust remains in the air duct after cleaning. Therefore, you can rest assured that your air ducts will be truly clean after a cleaning service.
Main Reasons to Choose us for Professional Air Duct Cleaning
We are Experienced in Air Duct Cleaning
We understand that a clean home is essential for your health and safety. That's why we offer comprehensive air duct cleaning services to ensure the air quality in your home is up to par. Our technicians are experienced professionals who know exactly what they're doing when it comes to air duct cleaning.
We're Sticking To Green Products That are 100% Safe For You
We believe that there is no justification for using environmentally harmful products in today's world when there are many safer alternatives available. While the choice of product depends on your particular situation, as members of the local community, we feel a responsibility to protect our fellow residents, so we use cleaning products for our job that are 100% ecological and safe for people and the environment.
Professional Standards, Excellent Results
We abide by industry standards when it comes to air duct cleaning. Our professional and thorough approach includes cleaning all parts of your heating and cooling system, such as the blower motor and condensing coil. This ensures your HVAC system operates more efficiently, leading to potential savings on energy bills and reduced wear and tear on your costly appliances.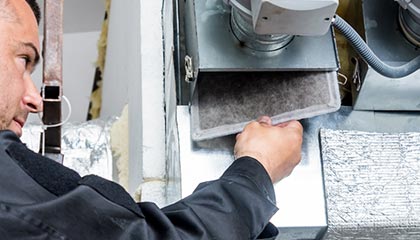 What We Do Besides Air Duct Cleaning
We also provide other top-notch services such as carpet cleaning, rug cleaning, upholstery cleaning, mold remediation, mold inspection, water damage restoration, Tile and Grout cleaning services, and others.
We Also Highly Recommend Dryer Vent Cleaning.
Consider our dryer vent cleaning service during our visit to your home if your dryer takes longer to dry clothes. A clogged vent could increase the risk of a fire. We also offer a free video inspection of your air ducts to determine the best cleaning methods for your HVAC system.
At UCM Carpet Cleaning New Hyde Park, we are committed to providing the best possible air duct cleaning services for our customers in New Hyde Park, NY, and the surrounding area. Contact us today at 516-519-3141 to learn more about our air duct cleaning services!