Different Types of Stains - Professional Approach
Several kinds of stains are hard to remove and worsen the appearance of an expensive carpet. From dirt to mud, coffee, food, and wine, all these things could create problems for you. The most common types of stains are:
Water soluble stains: These stains are easier to remove and include beverages. From fruit juices to alcohol, all of these items leave behind massive stains.
Food stains: Your kid or you might accidentally drop food on your carpet, creating dark-colored spots. It's back-breaking to eliminate them, without professional assistance.
Oil-Based Stains: These are the worst kind of stains. Fats and oils stick to the fibers of a carpet and don't come off quickly.
Cigarette stains: Another tough stain formed on carpets are due to cigarettes. These stains not only leave a mark but also emit an uncomfortable odor.
Dirt and Mud: Wearing muddy shoes on carpets leads to the formation of several stains. The dirt particles accumulate within the carpet layers and make it look untidy.
All of these stains are difficult to remove using DIY methods. Individuals should opt for professional carpet stain removal services in New Hyde Park, or the spots might never go.
What About Old and Stubborn Stains on Your Carpet?
It's common for individuals to drop food or drinks on their brand-new carpet but instead of letting the stain stay, try to clean them in time. One of the toughest jobs is to remove old stains from the carpet's surface. Old stains settle within the carpet's fibers and ruin its look. No matter how much effort you put into removing them, the results will not be satisfactory. For this purpose, UCM Carpet Cleaning New Hyde Park offers top-notch stain removal services. Call our experts the minute you spot an ugly stain on your expensive floor coverings. We treat all kinds of stubborn marks and stains.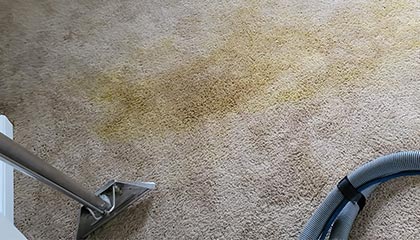 Safe and Eco-Friendly Stain Removal
We value our client's health as much as their carpets. Therefore, we only opt for green cleaning methods. All of our chemicals used in the stain removal process are safe and emit no harmful fumes. You can walk around with your pets or kids, and they won't feel any discomfort. Our supplies efficiently remove stains without causing any unwanted chemical reactions. So your carpet remains soft and colorful. Furthermore, we keep the environment safe.
We Will Help You to Remove Stains From Your Carpet!
Stains are the worst thing that can happen to your carpet. Not only do they make a carpet look unattractive, they make it rough and dry. Whether these stains are from food items, beverages, dirt, or lipstick, having them removed in time is the only best solution. For that, you need professional help, and no one can offer better stain removal services in New Hyde Park than our team.
Our trained specialists arrive at your residence with all the supplies and thoroughly clean your carpets. We make sure to avoid harmful substances so that your carpet's appearance is intact. All you need to do is call our helpline at 516-519-3141 and book a slot. We provide you with several cleaning options and free on-site estimates.
Who to Call for the Best Carpet Cleaning in New Hyde Park
UCM Carpet Cleaning New Hyde Park is the most sought-after carpet cleaning service provider in town. Our techs are certified by the IICRC, we only use modern equipment, and our service has been proven and tested by many of our satisfied customers. Do you need a carpet cleaning service or other household cleaning service? Contact our representatives now at 516-519-3141 and get your carpets squeaky clean in no time!