Mold Sampling Types
The need to address mold issues has been a passion of UCM Carpet Cleaning New Hyde Park. Mold testing gives the information that our customers need to make the right decisions for their property.
From mold sampling & testing to professional mold remediation, UCM Carpet Cleaning New Hyde Park boasts a complete range of services to suit the needs of our clients, which include the following:
Air sampling - detects the presence of mold in indoor air.
Surface sampling - samples of the suspected mold are collected and tested for confirmation.
Moisture and leak detection and reading - identify wet areas in your homes or business property where mold is likely to be thriving.
Visual mold inspection - applying an expert eye to your property, to determine the total area affected by mold growth and areas where testing should be conducted.
Emergency mold inspection.
DIY vs Going Pro: How to Effectively Beat Mold
Mold is without a doubt serious and addressing mold issues can be costly. This prompted the need to resort to various methods of mold testing, including do-it-yourself testing.
DIY mold testing kits are commercially available, but we don't recommend using them. Although it boasts convenience, the testing kits do not come with tools to detect the presence of actual mold. Unless you are experienced, you might not collect a meaningful sample. Even worse, you will then have to send away the sample, usually at additional cost, to obtain results you can't rely on. That's counterproductive.
Professional mold testing, on the other hand, is done using technology specifically for mold testing and comes with a complete range of tests that can be customized based on the customer's need. Treating mold can be tricky and in some cases, it cannot be detected easily. From mold sampling to testing, mold testing conducted by professionals guarantees accuracy to better treat and control mold.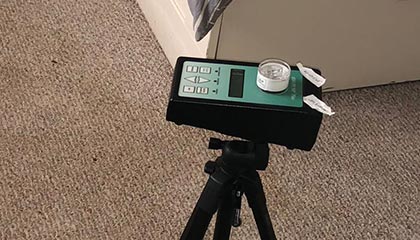 Mold: Key Information and Facts
Mold and mildew are fungi that scatter through the air in lightweight spores and populate in moisture. Damp areas in homes and buildings are the most suitable places where these fungi can thrive. Humans are exposed to mold every day as the mold spores are present in the air around us. But exposure to larger quantities has an adverse impact on human health and is destructive to property as mold breaks down building materials and speeds up corrosion.
In addition to its impact on health, mold is a leading cause of property damage. When coupled with moisture, mold thrives in porous materials like drywall. The presence of mold can ultimately be a hindrance to the desirability of your property in the market.
Mold Testing FAQs
What Are the First Signs of Mold?
There are ways to know whether you have mold in your building. Some of the signs to look out for include:
Warping walls
Crumbling plaster
Blistering paint
Cracking tiles where the cracks get deeper
Wet floors that are soft to touch
Mysterious stains
Damp smells in a well-maintained house
When Should Mold Inspection Be Done?
Mold inspection should be done as soon as you realize that you noticed first mold signs or after water damage incident. Professional mold inspection is best done within 24 to 48 hours of water damage.
How Accurate Is Mold Inspection?
Mold inspection and mold testing are pretty accurate ways to locate the mold in your home. These techniques tell whether you have mold, where the mold is, and what type of mold you might have. Mold inspection involves a mold inspector visiting your home and checking your premises for any mold signs, taking swabs for future mold testing, etc. Nevertheless, mold inspection may be unnecessary if you have visible mold spots.
All the Services for Your Needs
Choose our basic services which include visual inspection and moisture reading. Upgrade the package to a standard service and get outdoor and indoor air control testing samples, indoor surface samples, and be provided a copy of your mold remediation protocol, the complete plan of what is needed to return your property to normal. To experience UCM Carpet Cleaning New Hyde Park complete services, opt for the advanced package, which includes thermal imaging inspection to spot hidden areas of moisture.
We are dedicated to providing the best to our customers in a timely manner. To this end, we have partnered with O2 Mold Testing to help with mold inspection and testing services so we can make sure that all our customers are dealt with efficiently and professionally.
Book an appointment now or simply call at 516-519-3141 to get professional mold testing services from UCM Carpet Cleaning New Hyde Park.