Top-rated Rug Cleaning Specialists
The best way to clean a rug is to work with the best rug cleaner in New Hyde Park. Let our professional cleaners do it! Specialized methods and cleaning solutions are required to remove stubborn grime and tiny particles effectively. While home cleaning and vacuuming may make them look clean, a cleaning service thoroughly eliminates organic wastes, stains, bacteria, and dirt build-up. Professional rug cleaning significantly extends the life of your rugs with methods that effectively remove grime and debris yet are gentle enough to prevent material damage and discoloration.
What Are the Benefits of Professional Rug Cleaning?
Home and commercial space owners must make it a priority to have their rugs cleaned by professional cleaners.
Residential rug cleaning
Regularly cleaning your rugs beautifies your home and helps maintain the health of your family. Professional cleaning effectively eliminates tough stains and dirt, making your humble abode feel more comfortable and welcoming.
Commercial rug services
Rugs are excellent furnishings to make any commercial space comfortable, cozy, and visually pleasing. However, without proper cleaning, they can be dull and become hotbeds for harmful pollutants and bacteria. By thoroughly disinfecting your office rugs, you create a healthier and more work-conducive environment.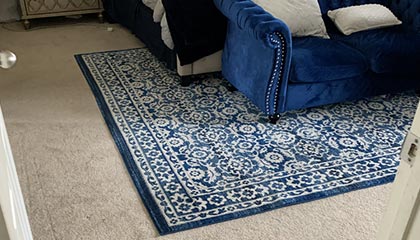 Differences in Cleaning Process
Many rug owners don't realize that cleaning rugs involve different methods and techniques depending on their material and fabric.
Oriental Rugs. Oriental rugs are made from handwoven looms with beautiful and ornate designs. They have geometric patterns with vibrant colors. Oriental rugs are an investment because as they age, their value increases. Oriental rug cleaning requires special care and attention to maintain its deep and rich colors and prevent the fibers from damage and shrinking.
Area Rugs. An area rug is usually used to protect the floor from damage and warm up a space. Since area rugs receive heavy foot traffic and are more prone to stains and spills, area rug cleaning must be thorough and meticulous.
Besides regular vacuuming, hiring a professional service is one of the best ways on how to clean an area rug.
Rugs placed in our homes and office spaces are valuable investments we want to maintain and protect. Dirty and contaminated rugs breed germs, dirt, bacteria, allergens, and dust mites. All these impurities can pose significant health risks to you and your loved ones.
UCM Carpet Cleaning New Hyde Park has specialized solutions and technology to safely care for your rugs while removing harmful elements and keeping them sanitized. Aside from oriental and area rug cleaning services, we have specialized cleaning procedures for fringed rugs and rugs made from different fabric materials. If you have a rug made of wool, silk, synthetic, or natural fiber and are looking for a rug cleaning in New Hyde Park, we can do the job for you.
Are you wondering where to find a professional and dependable rug cleaning near me? Look no more; UCM Carpet Cleaning New Hyde Park is happy to help you. Call us now at 516-519-3141 for a free price estimate!