What to Expect From Our Upholstery Cleaning Services in New Hyde Park?
You can expect great cleaning, tailored to bring out the best in your upholstered furniture. Before we begin spot-treating your sofa, we will cover the floor with a protective tarp, so it does not get wet or soaked. Once that's done, we'll apply a heated enzyme pre-treatment to ensure we remove every spot or stain. In addition, depending on the type of material that covers your furniture, we always choose an appropriate organic solvent. Moreover, we can remove any contaminants deeply embedded in your furniture using our hot water extraction. On the other hand, if there is any moisture left on your couch or sofa, we make sure it is completely removed so it dries quickly and it doesn't get dirty right after we clean it. We can also apply several treatments to prevent staining and damage. Our professional upholstery cleaning services in New Hyde Park will help you maintain your furniture's look, feel, and condition, especially with our advanced, highly successful deep upholstery cleaning technology.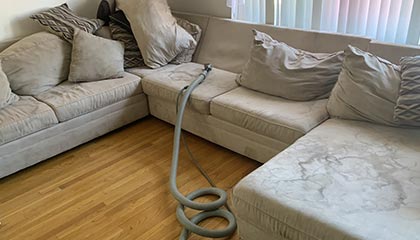 Why Is It Essential to Hire Professional Upholstery Cleaning Services?
Prolong your furniture's quality by letting New Hyde Park upholstery specialists handle the cleaning for you. After all, each type of furniture and fabric will need a different method of care. On top of that, you'll need the right disinfecting tools and chemicals to ensure the stains are thoroughly removed without harming your home, kids, or your environment. Letting our professionals handle your upholstery not only saves you time but also helps you avoid health risks that can happen when working with chemicals. You also won't need to worry about messing it up and ruining your sofa because our professional cleaners know what they're doing, with their many years of experience in the business. Lastly, you'll also be able to save money too.
Who Should You Call for Upholstery Cleaning?
If you're looking for the best upholstery cleaning service, call none other than UCM Carpet Cleaning New Hyde Park! It is our goal to provide our customers with the best service that fits their individual needs. Because of this, we offer phone consultations on all our services. For more information, please contact our customer service representatives. You can fill out our quick form or give us a call at 516-519-3141.
Our Eco-Friendly Approach
Furniture cleaning shouldn't add to the pollution. The chemicals we use are all environmentally friendly. When so many safer alternatives are available, there is no reason to use environmentally harmful products. Although the choice of which disinfecting products to use depends on your particular situation, we go to great lengths to stick with products that are 100% safe for you, your children, your pets, and the environment. We do this because we are residents trying to protect our neighborhood.